Invisalign® Teen
Clear Aligners for Teens in Great Neck, NY
---
The Clear Alternative to Traditional Braces
Many people assume it is a rite of passage for most teenagers to have traditional metal braces at some point prior to adulthood, but Passes Dental Care knows new technology allows teens to avoid the hassle and discomfort of braces while still getting a straight, new smile. We offer Invisalign Teen to our patients in the Great Neck and Manhasset areas. Those who qualify as candidates for this teeth-straightening alternative can enjoy the many benefits that come from using these clear aligners.
What is Invisalign?
Invisalign Teen utilizes a series of thin, clear plastic trays that are worn on the top and bottom teeth. The aligners move the teeth gradually over a period of a few weeks, after which the next tray in the series is used to shift the teeth slightly more. Cosmetic dentists use a computer program to custom-make each tray based on where the teeth are at the beginning of the treatment and where they should be once all of the aligners have been worn.
Aligner Advantages
Using clear aligners rather than traditional braces offers wearers many advantages. The lifestyles of many teenagers aren't suited to having brackets, wires, and bands. Social lives and extracurricular activities can be affected by orthodontic work. Some of the other advantages of Invisalign Teen include the following: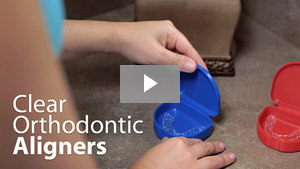 Better oral hygiene
Less irritation to gums and cheeks
Can be removed for eating and social occasions
Less time spent going in for checkups
While traditional braces may still be the best option for some orthodontic needs, more and more teens prefer using clear aligners for the ease and flexibility they offer.
Designed for Teens
Adults have been using Invisalign for many years, but only recently has it become available for teenagers. In the past, dental professionals assumed that adolescents would not wear the aligners for the full 22 hours a day. Also, many teens continue to have permanent teeth erupt during development, which was thought to cause movement of the already aligned teeth. In order to address those two issues, Invisalign Teen created compliance indicators, ensuring that the aligners are worn correctly for the right amount of time, and eruption tabs, designed to provide space for permanent teeth that come in later. These new developments in Invisalign technology are meant to make the process easy and effective for teenagers.
Contact Our Great Neck, NY Office For Invisalign Teen Treatment!
Straight teeth await you. Adults and teenagers continue to find that clear aligners are the best option for their teeth-straightening needs. A brand new smile is waiting. If you have any questions, feel free to contact the Passes Dental Care team at (516) 858-5921 to find out more about our Invisalign options for teenagers, and to schedule a consultation. We serve the greater Great Neck and Manhasset, NY area and surrounding locations.